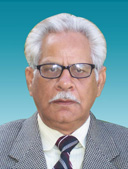 P. P. Sood, Retired Prof. and Head & ICMR Emeritus Medical Scientist (presently UGC Scientist, Dept. of Biochemistry), Saurashtra Univ., Rajkot, has major contribution in neurobiology and toxicology. He has published 180 original research papers, 20 chapters in books and 3 books. Dr. Sood has organized Symposia on "Cellular Toxicology" in I, II, III, IV and V World Congress of Cellular and Molecular Biology held in Paris, 1991, in Ottawa (Canada), 1996, in Jena (Germany). 2000, in Poitiers (France) 2005 and in Indore(2009) and also presented his findings

He was awarded Indo-French Cultural Exchange Fellowship in 1985, French Ministry of Foreign Affair Fellowships in 1987 and 1991 to work in several laboratories in France. Dr. Sood was co-editor of the International Journal "Cellular & Molecular Biology" (France) from 1987 to 2005 as well as editor and co-editor of 5 National Research Journals.

He received several awards including Life Time Achievement Award for Outstanding Contribution in the field of Toxicology. He was President, Vice President, Dean and member of several Societies. He delivered Platinum Jubilee Lecture at the 87th Indian Science Congress, Pune, 2000. He guided 14 Ph.D. & all his students are highly placed in India and abroad. At present he is deeply involved in publication of International journals "Journal of Cell and Tissue Research" and two Electronic Journals.